Box Weapons are small, hand-held cubes that hold tremendous power and Weapons within them, which are fueled by the Dying Will Flame of the user. For the Weapon within to be used, the right type of Ring, Flame, and Box must be matched up (i.e. Storm Ring, Storm Flame, and Storm Box Weapon) The higher the rank of the Ring, and the more pure the Flame and thus the more powerful the Weapon will be. It should also be noted that the Sky Flame can be used with any Box Weapon but it will not be able to unlock that Box Weapon's full potential.
The original idea for Box Weapons was based on the work of a biologist from the 4th Century, Geppetto Lorenzini. He designed 343 different animal based Weapons but lacked the technology to create them. Centuries later, three scientists: Verde of the Arcobaleno, Innocenti, and Arms-Dealer Koenig found Lorenzini's designs created the Box Weapons by using the power of the Mafia Rings as a power source, which solved many of the problems. After they created all of the Box Weapons that Lorenzini designed, they continued to invent new types of boxes and weapons, for example storage boxes. Thinking of nothing but funding their research, they sold the Box Weapons to the mafia for very low prices. Now, of the three scientists, only Koenig remains alive and continues to create newer box weapons. (Verde was dead in the future) The effects of the Weapon match the Flame's characteristics, but may be utilized differently depending the weapon itself.
In the Future Arc, Byakuran is revealed to have used his power of going to parallel worlds to gather enough information and resources to create dinosaur based Box Weapons. These include the T-Rex used by Zakuro and the Nuvola Velociraptor used by Kikyo.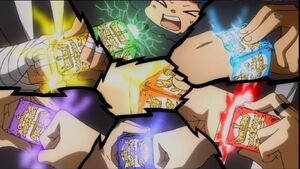 It seems that when a Vongola Box Weapon is opened, the resulting animal has an eye with three rounds in it, similar in appearance to the White Round Machine the Boxes were previously housed in.
It is seen that all Vongola Animals have a Crest on their forehead with a roman numeral I.
A Sky Flame can open any Box, but only the right Flame can unleash its full potential.
The original names of most of the weapons are in Italian.
From the time the Box were originally designed, it was seen as over technology, meaning that the technology needed to create them was beyond what was available at the time..
Kyoya Hibari in the Future has stated that, like most revolutionary discoveries, the creation of the Box Weapons was simply a coincidence.
Most of the Sun Box Weapons shown are actually support-type Box Weapons. This is most likely because the Sun Flame's Activation Ability is most suited to supporting others, usually by healing their wounds rapidly.