Each member has a box. And in that box lies an animal of there wish. The animal can be designed with w/e they want. For instance: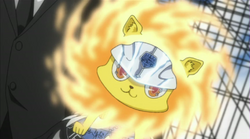 Natsu is the first generation box animal
And Tsuna's animal can change into a certain weapon that the first generation family had owned.
This cloak was worn by the Vongola First. You can see his form behind Tsuna.
This is the defense form.
This is the attack version of the Natsu. It changes into this glove like item and can be used for attacks rather than defense.
---------------------------------------------------
Cambio Forma Modo Attacco - Guanto di Vongola Primo (Change Form Attack Mode - Vongola First's Gauntlet)
Cambio Forma Modo Difesa - Mantello di Vongola Primo (Change Form Defense Mode: Vongola First's Cloak)
Leone di Cieli Version Vongola (Vongola Sky Lion)